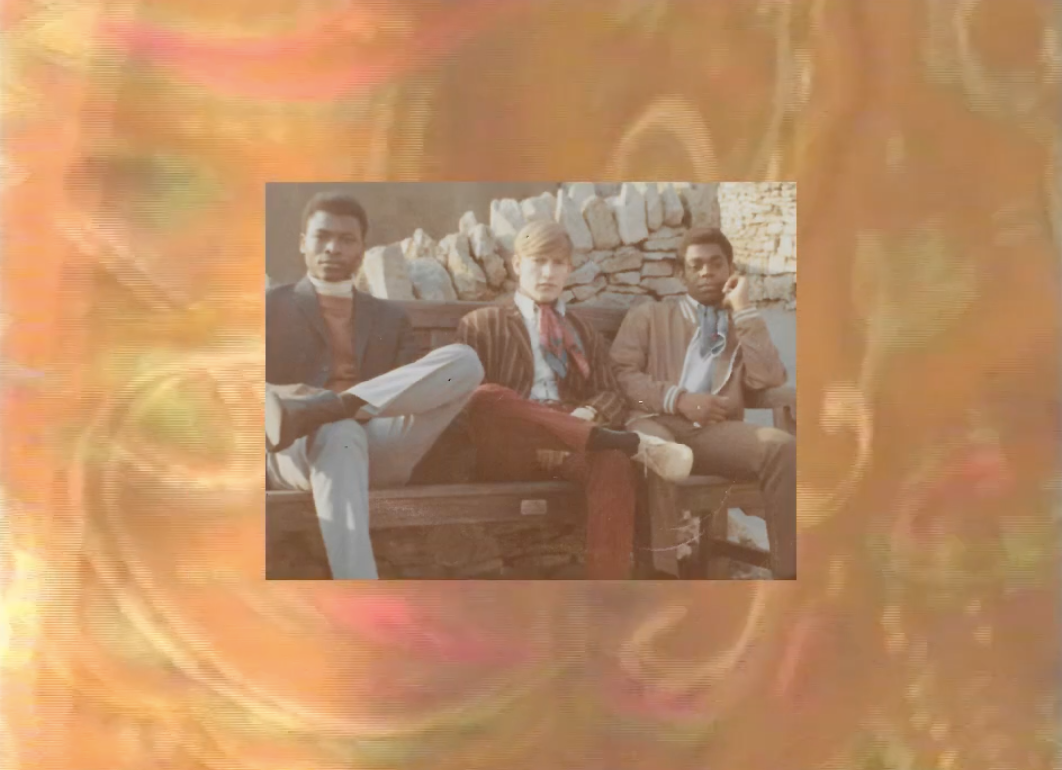 Dan Guthrie, Three Young Men on a Bench
<!–– Introduction --> Obsidian Coast presents Frames within Frames, an online screening of artist-filmmaker Dan Guthrie's two moving image works albion, refreshed (2019) and Three Young Men on a Bench (2018-19).
<!–– Description --> In albion, refreshed, tourists hunch under their Union Jack umbrella in the greenery of central London, while a composited flag in an array of red, white and blue Ankara fabrics ripples against the coastal waves of sunset lit Margate Beach. The flag – evoking the Union Jack, though gesturing towards its complete abandonment – is dancing to the beat of a contorted recomposition of 'Rule Britannia!'. Guthrie's film critically points to the British nationalist imaginary, and the iconography it carries, as something inevitably intertwined with the glorification of violent imperialism and colonial rule. Thus it also tackles the default tendency of British patriotic symbols to perpetuate a whitesupremacist fantasy of citizenship. In the era of expansionist expeditions, this fantasy of Britishness – of 'ruling the waves'* – was pursued through direct military invasion. Today, it manifests more bureaucratically in hostile environment policies, increased border control and isolationist political agendas. It is through these frames of reference that albion, refreshed questions the ability of a nationalist icon to ever represent the multiplicitous and intertwined communities, cultures, knowledges and heritage that nevertheless make possible the many worlds within the arbitrarily drawn borders of one nation state.

Three Young Men on a Bench delves into one of these many worlds by reframing an old photograph, of three men posing effortlessly in their Sunday best, from the artist's family album. At once a gentle account of family history, of lived experience, of intergenerational dialogue and of connection to the landscapes of one's youth, the film contemplates on the Black diasporic experience, and the construction and manifestations of Black masculinity in the context of rural South West England in the 20th century and now. The motif of rippling fabric recurs here but, instead of a flag alluding to exclusionary national identities, this time a series of shirts and jackets sway softly against the backdrop of green Gloucestershire hills and the bench from the photograph as it appears today, nearly five decades later. Guthrie's layered sequence of temporally ambiguous, overlapping frames delicately weave together souvenirs of a self that is always in the making, but always already rooted in the family and in the contours of the earth.

*

As 'Rule Britannia!' compels.