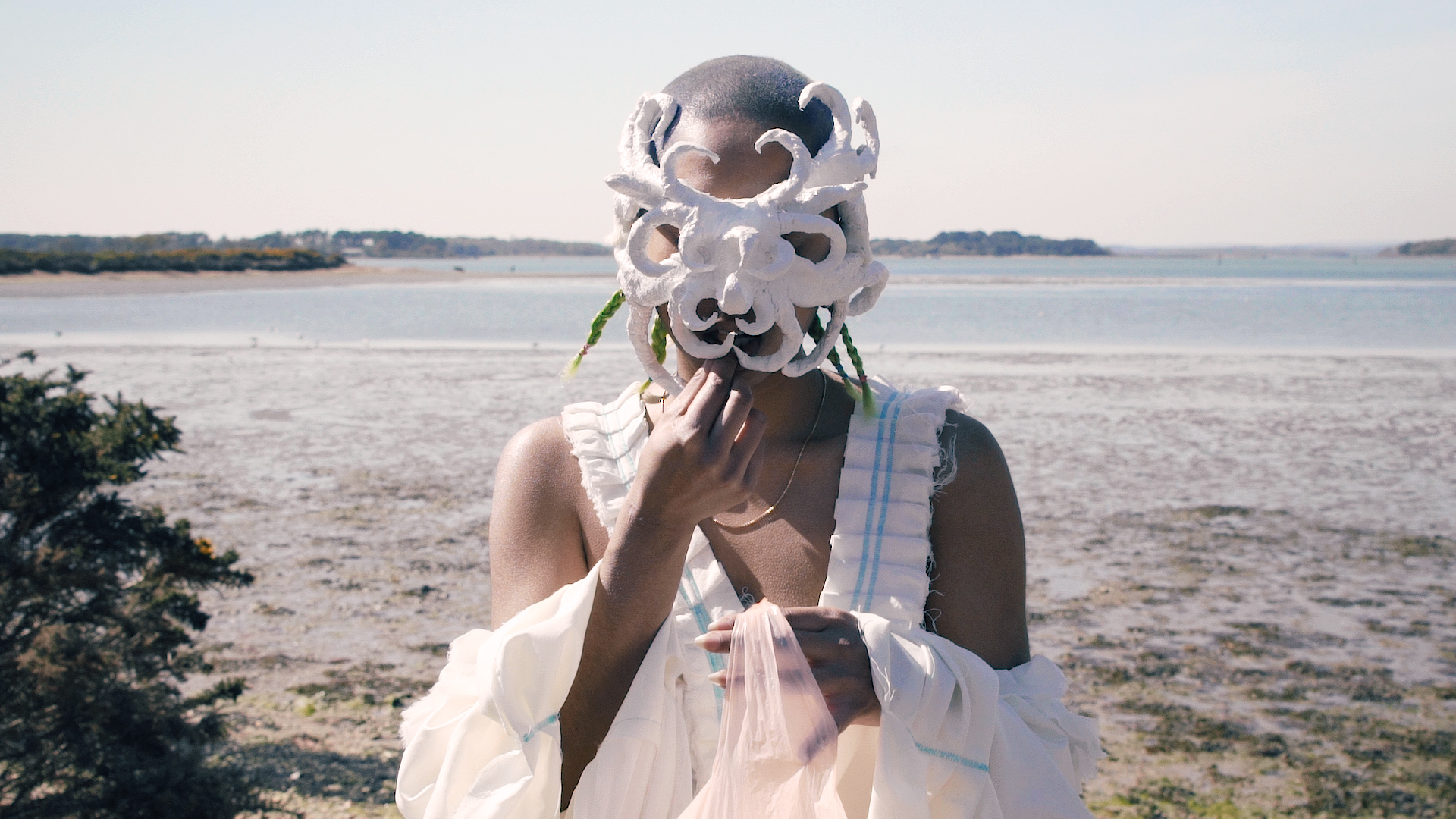 April Lin 林森, (Tending) (to) (Ta), film still, 2021. Image courtesy of the artist.
<!–– Introduction --> Obsidian Coast is delighted to present an online screening of artist and filmmaker April Lin 林森's new feature-length film (Tending) (to) (Ta).


<!–– Description --> (Tending) (to) (Ta) is a narrative-led speculative fiction film grounding itself in 'tā', the monosyllabic sound which in Mandarin Chinese encompasses all third person pronouns: 他 (third person male), 她 (third person female), and 它 (more-than-human lifeforms and objects). As these multiple genders and modes of being are all pronounced 'tā', the word 'ta' has in recent years been reconfigured and adopted as a gender neutral pronoun in colloquial contexts in Mainland China, in queer spaces and beyond. In the film, Lin casts 'ta' as an infinite cosmic entity with a proper noun Ta, who exists across universes and is present in all beings and matter.

The film follows an exchange of internal letters between two protagonists who imagine one another across parallel dimensions. Each communicating to an envisioned other, who exists as a possibility beyond their self-perceived boundaries of reality, these two beings meet in a shared world of imagination. In this reciprocal reach for the unknown, a world that bears an uncanny resemblance to our contemporary reality – colonised by Western capitalist constructs of race, gender and class, and characterised by a collective distance from Ta – opens a portal to another realm.

Here the potentialities of rethinking identity and the coexistence of life forms have long since been expanded. Subjecthood is recognised as fundamentally ever-changing, porous and codependent, and the accelerated rhythms of alienating wage labour are entirely absent. Daily routines stem from the interconnectedness of all beings, and encounters with the surrounding world are choreographed into affectionate, meditative rituals that not only honour these intricate bonds but also strengthen one's affinity with Ta.

As the two protagonists confide in one another in search of connection and meaning, the boundaries between their two worlds become permeable. The film asks where the boundaries of our understanding and imagination are drawn, how to reach beyond them, and what unforeseen norms, restrictions or modes of governing might wait for us, if we were to leap across to the other side.
Writing, Direction, Cinematography and Editing by April Lin 林森

Starring:
Samiir Saunders
Puer Deorum
Clarinda Tse

Chantel Foo as Voice of Meditation Guide
April Lin 林森 as Voice of Ta

Assistant Producer: Obsidian Coast
Drone Operator: Sam Smith

Production Design: Puer Deorum
Costume Design: Puer Deorum
Production Assistant: Germane Marvel
Set Ceramics: Leda Yang
Assistant Production Designer: FeelBreezee
Hair Colourist: Sophie MacCorquodale

Composer: Valeria Radchenko
Title Illustration: Sai Tripathi

Song: The Arrow of the Deity of Love 愛神的箭 by Zhou Xuan 周璇

Much gratitude for your words of guidance: Amalie Smed Dawids, Chantel Foo, Himali Singh Soin, Jonelle Twum , Nella Aarne, Nicky Chue, Sam Smith, The Moving Image Group, Toto Roomi

Special thanks to: Deen Atger, Gilbert, Sea Life Centre London Aquarium

Commissioned by Obsidian Coast

Lastly, a big dose of appreciation for all the leaves, branches, vines, stems, flowers, trunks, tussocks, roots, seeds, rocks, cliffs, streams, muds, raindrops, winds, almonds, jellyfish, sharks, and maggots for their crucial participation in this work.

This film is dedicated to all of us who have had very Real Relationships with Imagined Selves, Imagined Others, and Imagined Worlds.